In Ten best pairs of glasses in literature, Mr. Mullan wrote that Harry Potter's represent his intelligence.
I recalled a passionate discussion on Potter-verse that touched upon the subject. I, for one, think they also represent Harry's point of view. The story is told in limited third person narrative. We, readers, are looking into the Potter-verse through Harry's eyes, a Harry-tinted glasses, thus made gullible to question Harry's biases. It's quite telling that Harry's glasses repeatedly get broken and then fixed. He needs to rectify his viewpoints or perspectives every now and then as do the readers.
Well, enough about Harry. The article also mentions George Smiley's pair of glasses. Smiley is the protagonist of a series of espionage thriller books by John le Carré. One of them, "Tinker Tailor Soldier Spy" was adapted to a film by Swedish director Tomas Alfredson in 2011. And, as always with our cinemas, this film wasn't screened until the Oscar announced a nomination for best actor in leading role for Mr. Gary Oldman for his performance as George Smiley.
Typical!
So, what is it about Smiley's spectacles?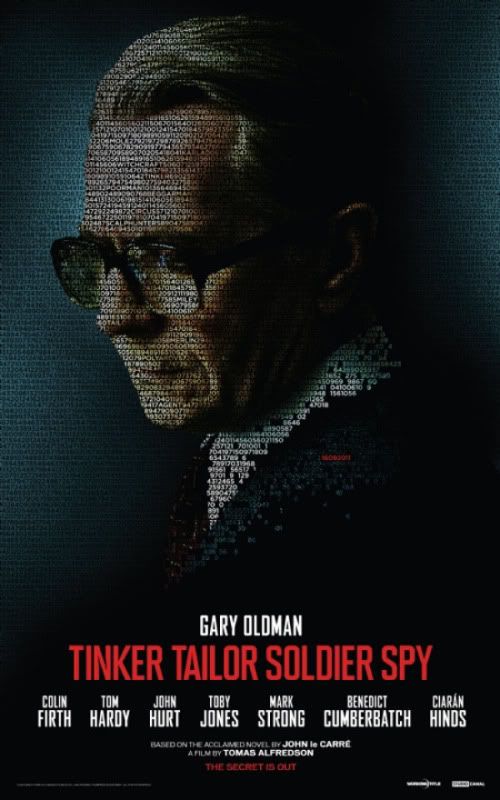 A master spy at MI6 (nicknamed the Circus), the British overseas intelligence service, George Smiley has the mark of "anti-Bond" written all over him. Smiley's appearance doesn't stand out. He is so reserved and quiet. For the first 15 or 20 minutes of the film he doesn't speak a word. And one was reminded of another bespectacled character called Smile in Ping Pong who is so nicknamed because he hardly smiles at all, with whom Smiley might have shared a trait. The one thing that glares is his very unfashionable spectacles.
There is a scene in which Jim Prideaux (Mark Strong) assesses one of his charges, a shy, also bespectacled, young boy who finds himself curious about Prideaux.
Prideaux, "What are you good at?"
Kid, "Nothing, sir."
Prideaux, "You're a good watcher, though, ay? Us loners always are."
Kid, is silent...
Prideaux, "Best watcher in the unit, Bill Roach is, I'll bet. Long as he's got his specs on. Right?"
Kid, "Yes, sir."
This assessment speaks of Smiley as well, I think. He has been watching events unfold silently through his glasses. And a good watcher that he is, he too sees things that aren't always what they seem and looks for their connections.
Tinker Tailor Soldier Spy is Mr. Alfredson's first foray into English-speaking filmdom. He had gained international critical acclaim for "Låt den rätte komma in" (Let The Right One In) from which one learnt that vampires can't enter one's room unless one invites them in. It was a visually gripping and surprisingly moving horror film. Too bad the cinemas here didn't pick Let The Right One In and screened the American adaptation, "Let Me In", instead.
Typical!
Still, I was glad that I was finally able to experience "Tinker Tailor Soldier Spy" at a local cinema.
Just as Alfredson's previous film, Tinker Tailor Soldier Spy is one impressive feast for the eyes and mind. This is about subtlety and nuance. It transports one to a different era where war was a chess game cloaked in secrecy, and thus suspicion and distrust. Aside from having one of the best ensemble performances from some of the best acting talents around (Gary Oldman, Colin Firth, Toby Jones, Ciarán Hinds, John Hurt, Mark Strong, Benedict Cumberbatch, and Tom Hardy), the set pieces and the tones of the film feel like characters on their own right (one can even feel and smell the cigarette smoke that infiltrated the air!). There is no long unnecessary exposition as if the film too asks the audience to be observant and discern the things ones do and don't see.
Tomas Alfredson is definitely in my list of directors I'm watching.